All in favor, say "Aye"! If only the process of electing community association directors were that simple! Depending on the size and complexity of your association, you may find the proper handling and record keeping requirements of annual elections to be a significant burden. Did you know there are a myriad of online election tools that can help? Have you ever wondered how they stack up? Let's take a look.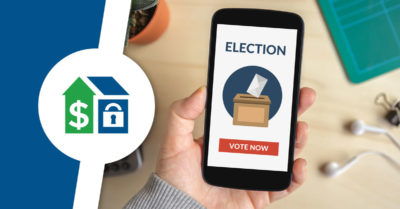 Companies such as The Inspectors of Election, electionbuddy, Big Pulse, eballot, Text2Vote, and, for our Florida friends, BPBallot, all have some very special features and benefits for your association. Selecting the right one can be challenging but quite rewarding in time savings and record keeping. There are other companies in the online voting space but not all cater to community associations or have successful track records in our industry. Before you agree to any online voting system, be sure to check that the vendor services community associations and, in particular, community associations in your state. Companies like BPBallot, for instance, are specifically designed to comply with Florida community association laws and guidelines.
These companies all have strengths and weaknesses. There is no "one size fits all" online voting solution because each community association will have its own particular requirements and comfort with adopting a new technology like online voting. Additionally, some community associations are challenged by the skill level of their Boards and even the ability of their members to use online voting systems. Truly modern online voting systems may even offer the ability to have users cast votes using their smartphones and tablets, which comes in handy for associations with members who have grown up using these devices and expect an "app"-like experience when casting their online vote.
The Inspectors of Election
Their website claims that they offer "the most professional and cost-effective election administration". They will research your association's governing documents and civil codes and provide Election Certification at the conclusion of your election process. Their standard services include all sorts of items that will make the election process easier for the association, including the preparation of the Election Package, Notice of Election, Agenda and more distributed to members in print or electronic method based on the choice of the electorate. Ballot counting and record keeping are all part of the service. Learn more about this online election vendor by visiting their website at https://www.theinspectorsofelection.com/start.htm.
electionbuddy
electionbuddy is another strong contender in the online election space. While their software and online services has applications in other areas such as schools and unions, their primary focus is on the homeowner association marketplace. Their software is highly customizable although requires a bit of tech sophistication to fine tune it for your individual association. Further, the "app" that comes with the program makes it favored by folks who prefer to vote using their iPhone or Android devices. electionbuddy offers customized packages for associations based on their needs but, as you might guess, once you stray from the "do it yourself" aspects of the service, it can get a bit pricey. Still, it is a popular option and worth investigating to see of it is right for your community association. Visit their website at https://electionbuddy.com.
Big Pulse and eballot
Neither Big Pulse nor eballot are specifically designed for community associations but their popularity, ease of configuration, and "app" access have made them popular for community associations as well. Many associations prefer the online polling features of these services, which allow for polling unit owners about projects the Board may be considering. You can easily create a poll asking home owners whether or not they would like to see the clubhouse painted red or blue, for instance. They have the capacity to handle online elections but neither product was specifically designed to do such. eballot seems to have an edge on Big Pulse when it comes to adding candidate profiles. Other than that, both products seem similar. Learn more at https://www.bigpulse.com and https://www.eballot.com.
BPBallot
Florida-based associations would do well to investigate BPBallot. This online voting program was developed by the law firm of Becker & Poliakoff, who has been practicing community association law in Florida for decades. As you would expect, BPBallot complies with Florida Community Association laws and is tailor-made for that audience. Learn more at http://www.bpballot.com
Regardless of which online voting software or service you decide to adopt, you must first make sure that your governing documents allow it. Typically, that is as simple as having the Board adopt a resolution allowing online voting. You should also be mindful of any state laws or requirements regarding online voting. Contact the online voting firm directly before making any decision and ask them if they have other clients in your state. Asking for a referral from a satisfied client is also a good way to evaluate the program for your particular needs.
TXT2VOTE
TXT2VOTE is a patented SMS based HOA election platform that's based on simplicity and cost efficiencies for community associations. The platform offers full-service features, including optional print/mail services which can be integrated into the TXT election platform. One of the key features of this platform compared to others is it's not an app, you don't have to create or remember a password, or go online with a URL to access the election. All you do is text the HOA name to 2VOTE-(28683) enter the exclusive code you received in the mail, and vote. There's very slick back-end reporting that captures all the information you need for reporting and crucial election details. The company can also provide social marketing materials to help show your members that this can be done in less than a minute, which ultimately helps you reach quorum faster.  Learn more here.
We hope you have found this brief introduction and discussion of online election options for Homeowner Associations and Condo Communities helpful. Our business, Community Financials, https://communityfinancials.com is all about making the job of running a self-managed association easier. For our clients we can set up the election in one of these systems and provide election assistance.  If online voting simplifies your association election and voting record keeping process, rest assured we are going to cast our vote in favor.