Do you have questions from owners and other board members about assessment collections during the COVID-19 Crisis?  Join our 4/29 Webinar on Assessment Collection at your HOA or Condo during the Coronavirus Crisis.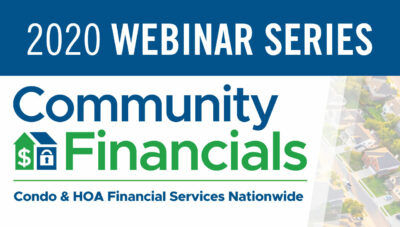 Webinar – Assessment Collections during the COVID-19 Crisis Q&A with Legal & Collection Experts 4/29/20  at 2:30 PM EST
Joining Host Russell Munz, Founder of Community Financials will be:
Douglas Levy  Counsel for Community Association Practice Group  at Rees Broome, PC in Tysons Corner, VA.
Mitchell Drimmer a licensed CAM and President at Axela Technologies a National Collection Agency specializing in Condo and HOA collections
We look forward to helping provide recommendations and options during the uncertain times your community is facing.