We hear it all the time from prospects – they just joined or are about to join the board and are concerned of personal risk for this unpaid and often underappreciated obligation.
We wrote up a 7-page long form article to help you understand the risks and some ways you can avoid them.  We spoke to 3 industry experts: an Attorney that works with Association Insurance, an Insurance Expert who works to reduce risks from vendors and the President of a Resale / Escrow Paperwork Service provider.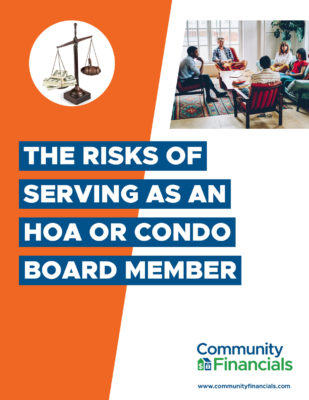 Some of the Risks we Review:                   
Legal
Financial Controls
Insurance Related
Resale & Lender Questionnaire
Here is an excerpt:
"You've raised your hand when volunteers were needed to help with events or committees.Now, a sitting Board Member has asked you to consider running for a seat on the Board and you are strongly considering taking your community association volunteerism to the next level by serving on the Board. You enjoy being an active member of the association but should you serve on the association Board? Have you ever wondered what possible risks and liability await you? After all, you are not just volunteering any more. You are thinking about becoming a director of the non-profit corporation that is your community association.
I spoke with several HOA and condo industry veterans to discuss potential risks volunteer leaders face once elected and seated on the Board of Directors for their association. The goal of this article is to inform you of these potential risks BEFORE you raise your hand and run for the Board. I feel that an informed candidate is a better candidate for both the association and the individual volunteering to serve.
First, almost all associations carry an insurance called Directors and Officers Insurance, better known as D&O insurance. This insurance indemnifies the association and its directors from being sued directly for most business decisions that the Board makes. There is also insurance for Errors and Omissions, which also helps protect the association from claims if honest mistakes are made. However, there is personal risk associated with the individual Board member that these insurances may not cover. For instance, if a Board member openly discriminated against a resident of the association, that resident may bring civil charges and a lawsuit against the director that neither insurance would offer indemnification protection for the Director. This is an extreme example but one that most certainly exists…."
Community Financials is the nationwide provider of monthly accounting services for Homeowner Associations (HOAs) and Condo Communities.  As part of our service we help boards reduce the risks of serving as a HOA or Condo Board Member – especially for self-managed board members.