Who says "Bigger" is "Better"?
When it comes to large scale community associations like Master Planned Communities (MPCs), Master Associations with Multiple Sub-Associations, Property Owners Associations (POAs), and even larger Homeowners Associations (HOAs), Condominiums, and Planned Unit Developments (PUDs), "Bigger" can be "Better" but only if serious consideration is given to the all-important tasks of record-keeping, bookkeeping, accounting, and financial management.
The largest of these associations more closely resemble small towns and cities and require huge amounts of work to maintain compliance with local, state, and federal reporting requirements. Whether self-managed or managed with onsite support, going it alone can be a costly mistake. That's why many large-scale community associations decide to engage the services of Community Financials to provide expert accounting support and service for their mega-community.
Community Financials Can Help Your Large Scale Community
Utilizing state-of-the-art community association management software (Caliber and TOPS One), Community Financials is uniquely qualified to offer the software, training, and support that is required to keep even the largest of community associations satisfied with on-time records, reports, and accounting.
Our bookkeeping professionals know exactly what large-scale community managers want and expect when it comes to timely and accurate record keeping. We employ professionals with the necessary experience to manage all of the association's data.
That's important because large-scale communities produce a mountain of data!
Get Your HOA Accounting Taken Care of by the Experts
Putting Cost and Quality at the Forefront
In addition to our particular expertise working with larger community associations, the biggest advantages of using Community Financials to handle the heavy lifting when it comes to the accounting and bookkeeping for your large-scale community are cost and quality. Because we are so good at accounting and recordkeeping, there is an economy of scale when you hire us.
Because we are so experienced at large-scale community association bookkeeping, you can expect your records to be kept accurate and prepared in a timely fashion. It also frees up your management staff to do what they do best – managing all of the resources and amenities of your large-scale association.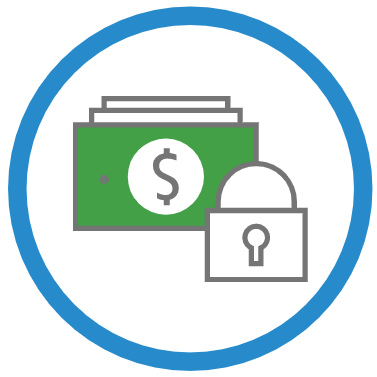 Worried about internal controls?
The peace of mind that comes with our systems and processes is priceless. Having Community Financials deal with all of the financial management for your large-scale community association means extra protection for the association and peace of mind for the Board. We are bonded and insured, meaning you can trust your assets with us!
Top-of-the-Line HOA Software at Your Fingertips
One of the greatest challenges faced by any MPC, HOA, condominium, PUD, or POA is the need to upgrade or switch software platforms. The costs of using software like Caliber, TOPS, and Strongroom are included with our service. Hours and hours of needless work are required to upgrade or convert to a new software system. With Community Financials, once again, we have your back and handle all of that work in-house. We can even provide expert training for system users back at your association. Onsite staff simply needs to log in to the new software. If your large-scale community association is contemplating a software change or upgrade, now is the time to consider Community Financials for your financial management partner.
We can add online resident portals, work with you to provide online banking and lockbox services for cash management, and much more. Banking services such as lockbox and online payments can be costly or even unavailable to a community association trying to work directly with a bank. Because this type of community association accounting work is all that we do, we have particular expertise that your association will benefit from.
Consider the challenges of handling all of these software and accounting functions on your own. You will need to hire, train and retain staff. If you've ever lost a bookkeeper when you needed them most, you know how painful it can be to find and train an experienced person on short notice. Community Financials typically is a far less expensive alternative than hiring your own in-house accounting staff. We also have a large staff of qualified workers, meaning there is redundancy and less risk of someone on vacation or out sick at the wrong time!
If you make a mistake with your choice of software, you can end up having to duplicate work to produce reports and maintain compliance.
I can't express how pleased we have been with everything Community Financials has done so far.  Your team has been INCREDIBLE to work with.  You have lightened our load, took SO MUCH stress of our plates, and made things efficient.  It is truly a pleasure to have your help, and I can't tell you how thankful we are for the clear and consistent communication.  And it's only been a few months!   Again, I'm so appreciative that Google led me to your company.  We thank you so much for making our job so much easier!
Making Your Planned Unit Development Run Smoothly
"Bigger" is only "Better" when everything is working flawlessly. Otherwise, "Bigger" can describe the headache, risk, and potential for problems. Community Financials makes sure that "Bigger" is "Better". We have the experience and the right solutions for your Master Planned Community, Master Association, Multiple Sub-Associations, Property Owners Association, and larger Homeowners Association, Condominium, and Planned Unit Development. Talk to us today. Click here for our useful guide for Monthly Financial reports for Large Scale Community Associations.