With the outbreak of Corona Virus we are seeing many businesses move to remote working as a way to self-isolate and reduce the spread of the virus.  Are remote services for Condos and HOAs the new normal after the Coronavirus? The answer for the next few weeks and months is probably yes.  Businesses are reducing the number of employees that can work in one place to 10.  Some employees that visited a certain area of your state have been mandated to self-quarantine for three weeks and others are self-quarantining out of precaution.  The Federal government yesterday March 16th asked citizens to limit certain activities for the next 15 days as well.
Our local Community Associations Institute Chapter postponed their trade-show and conference schedule for the end of this month due to Colorado's Governor's order.  I was scheduled to speak about "Financial Transparency" for continuing education credits to Managers and Board Members, last year to an audience of over 80, and I offered the class as a webinar but most likely it will be given live at the rescheduled conference in the late summer or fall. Our firm provides financial management to communities nationwide.
Our staff is remote based and there is no change to our client interactions or to our staff conducting business during this outbreak.  For more about remote financial management and how it works you can read about that in this blog post. What kinds of things can homeowner associations (HOAs) and condos communities do remotely?
Paying Assessments – If owners have dropped off their assessment check at a board member's home or an onsite office that can change.  We find most of our owner clients make payments online or mail a check or have their bank bill pay mail a check to our bank's lockbox.  Its often more convenient and the payment is usually deposited faster reducing the chances of a late fee.
Customer Service – Whether it's a question about assessment payment, late fees, fines, violations or other items, most customer service questions are already handled by phone or email.  I ran a full-service management company for over 16 years and for the most part the only board members or homeowners that came to the office were either lonely or waiting to the last minute to make their payment.  Over ninety-seven percent of customer service items were handled remotely.  Now we also add video call, screen sharing and other tools to help our board and homeowner clients with questions.
Mailings – Whether its for monthly statements, late notices, a meeting notice, newsletter or for a violation, mailings still happen the same way.  They get crafted and then emailed around to be proofread and then mailed or emailed out.  Maybe now is the perfect time to send out a newsletter and include some helpful info.
Board Meetings – We often join Boards by conference call and video conference call.  There are many services available that many board members already have access to.  Just provide the instructions and boards and homeowners that want to join in can join the meeting.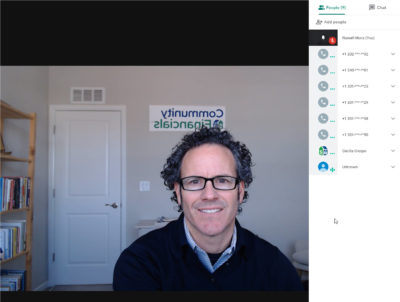 Vendor Presentations – When we talk with Boards about our services, we talk to them by conference call or video call.  Sometimes one board member at a Board meeting will have their computer and the other board members gather around as we virtually meet.  I've also done meetings with Boards that were in different locations and we all logged into our computers or smart phones to meet by video.  Boards can still vet vendors by reviewing proposals and meeting with vendors online.
Inspections – During times of blizzards and hurricanes I've even done remote site inspections when the state had issued travel bans except for emergency service vehicles.  Some of our clients had security cameras around the property and we had online access to view the cameras, even redirect them and look at services that needed to be done and called the vendor.
Of course, most maintenance items cannot be done remotely.  But some maintenance items can be rescheduled.  I have spoken to maintenance workers that said a few homeowners that had a cough did not want anyone coming into their home and the maintenance people didn't want to go in either.  Maybe for the near future only handle the emergency maintenance items like leaks or heat issues and postpone the other home maintenance items until a later date.  For communities with common areas look at how you are sanitizing your high traffic areas: doors and door handles, key-less entry pads, common bathrooms, elevator controls, etc.
Here is an excerpt from a Washington Post Article from 3/21/20:The New coronavirus economy: A gigantic experiment reshaping how we work and live.
"Many business practices, such as remote work and the online medical visits of telehealth, were slow to win widespread adoption because of behavioral inertia. But the outbreak — and its indefinite period of upended life — could speed adoption of such unfamiliar ways of doing business.
Any traditional face-to-face encounter — going to an accountant's office, sending children to class, traveling for a business meeting — could someday seem less necessary as more remote options become publicly acceptable and widespread.
"It's amazing how slowly habits change, where people get stuck in the ruts of doing things, and then you have a shock like this that can change everything," said Erik Brynjolfsson, director of the MIT Initiative on the Digital Economy. "It forces people to overcome the switching costs, figure out something new and say, 'Hey, this is way better.' "
We hope this post gives you some ideas on how to conduct business differently at your community.
More importantly we hope you, your family and neighbors stay well during these historic times.