Is it difficult to get homeowners at your HOA or Condo to volunteer for positions on the Board?  Are you a Board member who feels like you are stuck having to stay in your role since no one else will volunteer?  This doesn't have to be a "life sentence".  You can make it easier to attract people to the Board of your HOA or Condo.
Even though many governing documents have term limits or specify more board positions than are actually filled I talk to hundreds of Board members who say this doesn't matter because of the lack of volunteers in their community.  Many tell me it is due to apathy, most owners bought into this type of community so they didn't have to do as much so they won't volunteer.  All tell me everyone is too busy with their work or personal life to volunteer.  That's when my ears perk up.  If you make it easier for a board member and it won't be such a time commitment would more people be willing to invest a smaller amount of time to help their community and in the process help increase the value of their #1 asset, their home?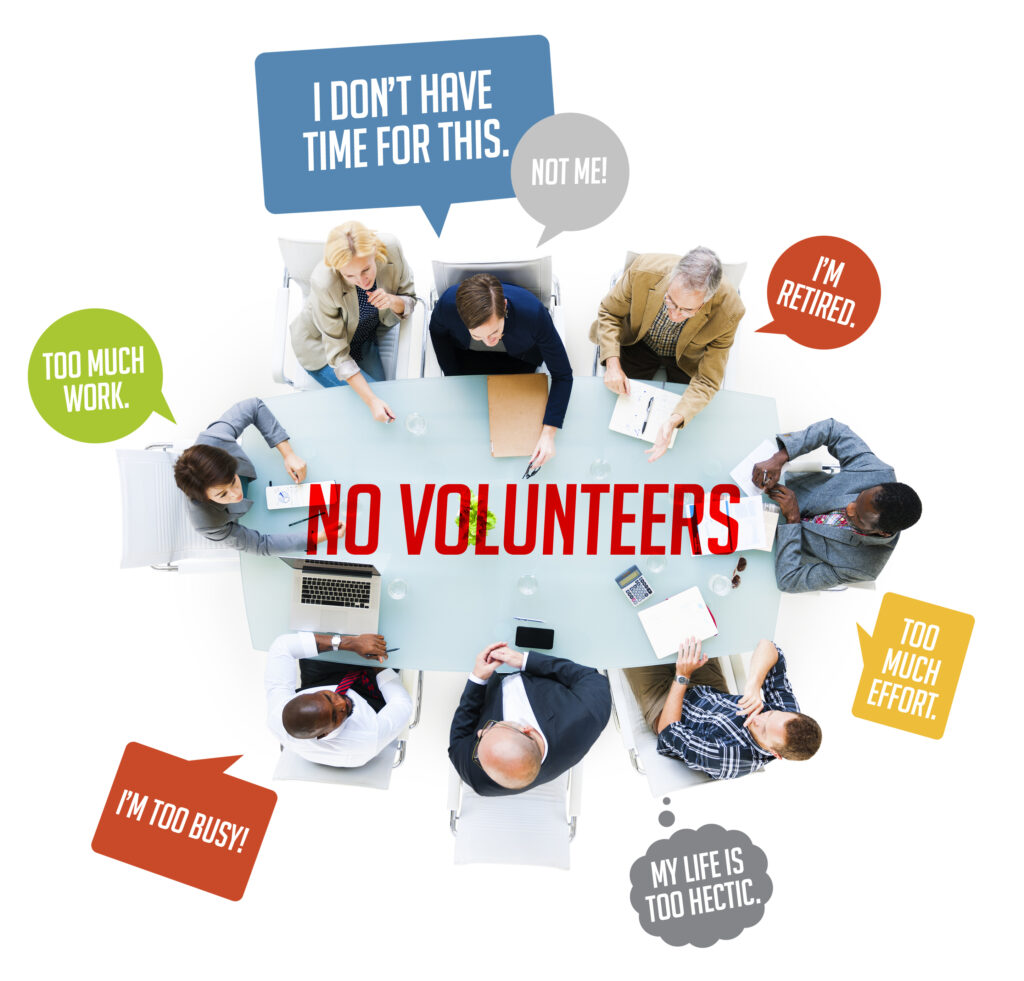 Most board members I talk with tell me that it's a lot of work being on the board.  In most cases, it's more than they want to put into it but feel they have no choice.  This workload is a result of how the community is operating now and has in the past.  Sometimes this is due to working with a non-effective management company and the board has to step in to pick up the slack.  Or the community is 100% self-managed and it feels more like a non-paying job.  In either case, it can be a lot of work, but it doesn't have to be.  There is a way out of this, there is a better way.
What if I told you that you can make it easier to be a board member yourself and you can recruit new board members if you provide a system and support to make the role less tedious, less time-consuming, and less frustrating.
Here is an 8-Step Plan of Action:
1 – Stop using multiple systems to manage your community.  I see boards using QuickBooks for accounting, then spreadsheets for lists, Mail chimp for email and some use a different tool for tracking violations.  Use a single software platform to handle all board business.  You'll reduce duplication of effort by not double entering owner info and changes into separate software for handling accounting versus operational issues. You won't have to export owner names and emails into an email or text communication tool.  This will save time.
2 – Provide a portal for homeowners to get answers.  An online portal provides transparency to homeowners and will reduce basic questions and requests.  Owners will be able to see their account balance, make a payment, see community documents, and update their contact information all in one place.  They won't be contacting you for these simple requests. You can even have a smartphone app to make it more accessible.
3 – Make communication easier for the Board.  The Board should be able to send email, text & voice broadcast messages to homeowners from their up-to-date "owner contact management system".  Have the ability to segment homeowners if they own a pet, live in a different phase, a particular building, etc. then Boards can send tailored messages to these owners easily.  The second part of communication is funneling owner communication to the right place, like a board email, from within the homeowner portal (see above).  This helps you get away from the dreaded dinner interruption.
4 – Make operating your community easier to do.  Use simple software that allows the Board to manage tasks, handle maintenance tracking, and help with violations and architectural review items.  The key is it has to be easy to use so new Board Members will see it as a benefit, not something they have to figure out.  If they can't figure it out, they won't use it.
5 – Handoff items that people just don't want to do.  Most people procrastinate getting their figures together for taxes annually so it's no wonder you can't get them to do this for your association monthly.  The first thing Boards want to hand off due to the time required, often lack of volunteers with this expertise, and the monotony is the accounting.  Next, if you have delinquencies owners don't want to pester their neighbors about money owed and they are not a licensed debt collector so most will want to hand off collections.  Along with accounting and collections come homeowner calls and questions about their balances and late fees, etc.    Either handle owner customer service or let someone else handle these calls and emails.  Lastly, make physical mailings easier so Boards don't have to print and stuff envelopes. Besides the glue on envelopes doesn't taste good!
6 – Provide training for new Board Members.  Most volunteers don't have any experience being a member of the board.  If you are trying to recruit a neighbor to the Board do you think it would help if you said we have an online learning course with how-to videos, cheat sheets, and other guides that you can refer to?  Of course.
7 – Allow for continuity.  When a trusted board member sells their unit and moves away and a new Board Member is elected it is better if there is a resource to help.  Is there someone who is still familiar with accounting and systems used over the years so the incoming board member has some support?  By having a service handle some of the tasks you'll have built-in continuity for your normal Board transitions.
8 – Use advisors to simplify more difficult items that pop up.  Just like you have a list of preferred vendors to take care of the grounds and infrastructure of your community, come up with a list of advisors an incoming board member could contact for help.  Some oddball items may pop up in your community and if a new Board Member had a contact list for those items it would reduce the stress.  The 3 biggest challenges Boards face are: 1) an operational type question how do we do x, 2) legal questions and 3) a construction project.  You can hire an a la carte property manager, an HOA attorney, and a construction project manager for these things.  You don't have to reinvent the wheel.  Have the expert tell you how and it will save you time and money from avoiding costly missteps.  Don't try to do it all yourself.  Saving money by doing more as a Board is great.  However, you have to spend money for outside expertise to allow the Board to do their role successfully.  Remember even property managers are generalists and the best practice is to bring in specialists when needed.  Make sure you have your short list of experts.
If you want to make it easier to attract people to the Board of your HOA or Condo another thing you can do is learn more about what tasks can be done by others.  Whether your community is currently self-managed or investigating self-management, we have a free resource called 10-steps to Self-Manage your Community that has a graphic to help illustrate this.
Making a change in your community to handle these 8 items is more affordable than you think.  Our service provides accounting, some remote administrative help, and the most easy-to-use software tools in the industry. Accompanying the quote will be an online tools sheet with 9 demo videos of software we use.  Click here to request a quote to review with your Board.