Are you currently working with a management company but don't want the poor service or cost?  Are you currently self-managing your community but looking for an easier solution?  There is a solution and it is self-managing with support from industry experts – where the community doesn't have to do it all themselves.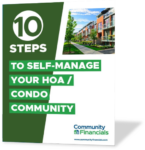 If you are currently with a management company and exploring self-management as an option here are the benefits:
Stop dealing with a frustrating lack of response and continual chasing to get answers
Stop paying more for poor service and doing it yourself anyway
Save money to fund community projects
But hire a support service do 60% of what a manager does at a fraction of the price
If you are currently self-managing but looking for an easier way here are the benefits of working with a financial management support service:
Does the work so you don't burn out your Treasurer
Provides online payment options and great customer service for homeowners
Provides portals for access to information and reduces homeowner questions
Improves your processes with online bill approval and online transparency
Reduces your delinquent owners
Provides timely financial information
Handles resale & refinance questionnaires
What will you do with the extra time?
Community Financials is the financial management and remote services solution you've been looking for.  We'll make your role as a self-managed community board member easier.  Find out more in our 10 steps to self-manage guide.
You'll learn what support is available, what the Board handles and what other specialists can do.