We wanted to share an awesome resource with you to figure out the reserve requirements for HOAs and Condos in each state.  Our friends at Community Associations Institute (CAI) have a digest of all the requirements since regulations governing Homeowner Associations and Condominium Communities vary greatly from state to state.
First, what are reserve funds?
Reserve funds are savings or liquid assets set aside to cover unexpected costs or future financial obligations like replacement costs that will come about over time such as replacing roofs, roads, and other community infrastructure.
"Many states have enacted legislation dealing with community association reserve and operating funds to protect owners from fiscal problems and financial hardship. More states may enact similar legislation as community associations continue to gain popularity. The following is a summary of each state reserve fund law.
Reserve studies or a reserve schedule for condominium associations are required in the following 12 states: California, Colorado, Delaware, Florida, Hawaii, Maryland, Nevada, Oregon, Tennessee, Utah, Virginia, and Washington State. Washington statutorily encourages associations to have a reserve study performed every three years unless doing so would impose an unreasonable hardship.
Reserve funding for condominium associations is required in the following 12 states: Connecticut, Delaware, Florida, Hawaii, Illinois, Maryland, Massachusetts, Michigan, Minnesota, Nevada, Ohio, and Oregon." (source CAI website).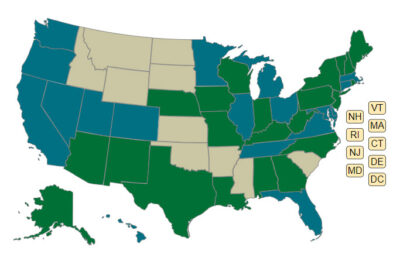 Map Key:
Blue states have a reserve study and/or funding requirement;
Green states have statutory guidance for reserves, but do not have a statutory requirement; and
Khaki states do not have statutory guidance or a statutory requirement for a reserve study.
From a community accounting perspective, most communities budget for reserves and increase their operating budget to have excess funds that are transferred monthly from the operating account to a reserve account to keep the funds separate. Many regulations require two board members to approve moving money out of the reserve account.  Operationally, this is commonly accomplished by email and saving the email for an audit trail or using DocuSign for an approval sign-off that includes the total dollar amount, the breakdown of what vendor bills it's paying, and then the accompanying proposals or invoices.
To learn more about the requirements in your state visit CAI's website page on Reserve Requirements and Funding.
As a proud Business Partner Member of CAI we're happy to share their resources with our audience.  Your Board may find value in membership in CAI as well.  Here's a link to the Benefits of Membership.