Community Financials is growing and we continue to add the best personnel to ensure you receive great service.
We're pleased to introduce Shannon McGuire as our newest Client Manager on the Tops Team!  This role provides Boards with a primary point of contact to work with.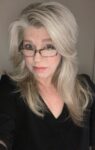 She will answer questions related to financial reports, help answer any service questions or resolve any issues as well as help with budgeting if that is included in your service.
Shannon has 12+ years of experience as a licensed Sr. Community Manager and is an industry expert.
Welcome to the team, Shannon!