Community Financials is happy to announce a powerful new partnership for clients.  We have enhanced our collections program ("Easy Collect") with our new collection partner Axela Technologies, a national company based in Florida.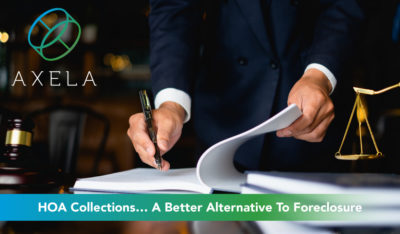 After Community Financials' sends out the courtesy late letter(s) Axela takes collections to a new level. The collection activities performed by Axela are all licensed FDCPA compliant where they will send out Federally required initial demand letters, notice of intent to lien, cause attorneys to record liens, make outbound calls, work with owners on payment plans, do credit bureau reporting, notice bank lenders (as per PUD and Condo Riders), amongst other tactics. They will send out the pre-lien letter plus all future communication for our clients. There is no cost and no risk to the association. The idea being to move boards of directors off the idea of foreclosing on delinquent owners, and let them know that their cash shortfall can be recovered without such Draconian tactics.
The cost to the association is Axela keeps the late fee and interest on the delinquent owner account.  There are no bills like attorney's charges that wipe out any money collected.  Plus, if Axela does not collect from the owner they will waive their fee (it's a no lose endeavor for our clients). Absolutely, no cost and no risk to the association.
Added Bonus: Axela offers immediate cash infusion based upon account receivable delinquencies nationally. They are so confident that they will recover money they will advance a portion of the delinquencies * at our risk. We will do an analysis of your delinquent accounts receivable, provide you with a report and an amount we will fund, and upon acceptance immediately send you a check and begin our no cost no risk collections process.  There is no security interest in the agreement, no interest, no liens filed, no UCC filed, and is entirely at our risk. I don't think that any other company or law firm is prepared to make this offer. Click Here To See The Press Release.
We want to take the pressure off your community association clients during these times and our collections program (Easy Collect along with our advance funding program (HAAP)) is the best way to alleviate and possibly reduce the pain for condos and HOAs.