Getting a loan to buy a home or condo is a real chore.  Now think how difficult it is to get multiple bids for loans for a community to do a capital project? Need a new roof, new windows, new siding, new boiler, or new paving?  As the community gets older its components reach the end of their useful life and need replacement.  It's likely the association did not save enough along the way so you need a loan to pay for the project.  We're here to tell you the best way to get a HOA or Condo Loan.
As a volunteer board member your job is difficult enough and now you have to wear a financier hat?  First you have to check your community documents and make sure it allows the association to get a loan. If not you have to get an attorney to amend them and get that amendment approved by a vote of the owners.  Once that is in place you have to find banks that will lend to an association as they don't have any real physical collateral (the homes and condos are not available for this).  Then since this is a large amount of money the association has to get multiple bids to make sure they are getting favorable terms.  That means repeating yourself over and over which multiplies the time and effort involved in getting lending terms.  There has to be a better way right?
This is the best way to get a HOA or Condo loan.  A lending exchange that has multiple lenders competing for your loan.  When lenders compete your association wins.  This process streamlines getting 3-5 bids from lenders – without repeating yourself.  It is a standardized process and you enter in the details of your loan.  Bankers review your loan and if interested will put forth a "lending concept" for you to review.  If you like the terms only then will your contact info be exchanged with the banker to discuss things further.  Alan Seilhammer of HOA Lending Xchange says: "It's like e-harmony for money seekers in the HOA industry".
So what are you waiting for? Get started with the best way to get a HOA or Condo Loan by CLICKING HERE.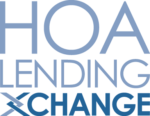 If your association doesn't need a loan now but you know a board member that does please use the links at the bottom of this post to forward this to them.